We will take a look at some of the most recent email scams targeting Australian businesses from May 2017. Share this list with your colleagues to spread awareness of recent scams which may come across your email inbox. Follow us on Linkedin & Facebook for regular updates.
The month of May saw the global "WannaCry" ransomware scam become first page news and infect many notable organisations in particular the National Health Service (NHS) in the U.K.
Despite the media attention many other scam emails with similar malicious intent went across the nation unreported by the mainstream media.
To verify, report or learn more about a scam contact the ATO Scam Report or ScamWatch.
ASIC
The Australian Securities & Investments Commission is a regularly impersonated target for scam emails, we've written in the past here and here about a few different types of malicious emails which have been sent from criminals posing as ASIC.
The emails which are being sent from the domain australiangovernments.com, are advising recipients to review their company renewal letter using the link provided. The link itself is pointed to malicious file named"renewal.zip" which could do numerous things including encrypting data and make a log of all keys pressed to gather important information.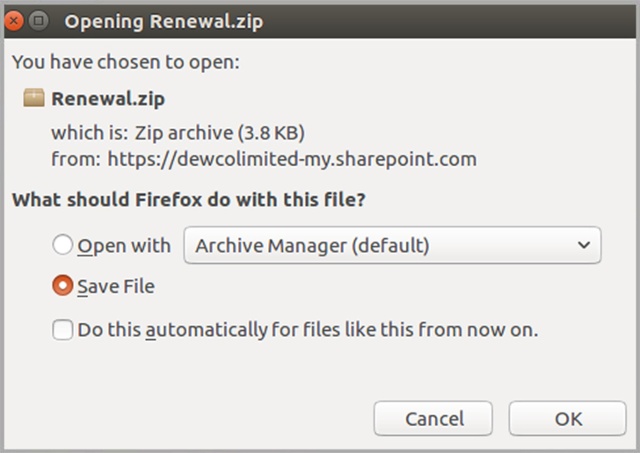 Similar to previous scam emails, the communication is well worded, branded with ASIC logos and signed off by a "Senior Executive Leader" who does not actually exist. ASIC urges recipients not to let curiosity get the best of them and delete these emails immediately.
Instructions from the ASIC website – Scams Targeting ASIC Customers
Scammers pretending to be from ASIC have been contacting Registry customers asking them to pay fees and give personal information to renew their business or company name.
These emails often have a link that provides an invoice with fake payment details or infects your computer with malware if you click the link.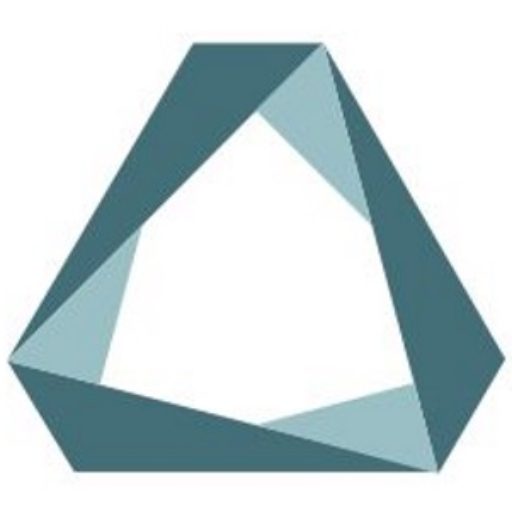 Cyber Insurance Australia can help reduce the costs of cyber crime for your business. 
Origin Energy
A very convincing fake email has been sent in the tens of thousands this month containing near perfect Origin Energy branding. Most Australians now receive their energy bills via email instead of post which is great for the environment but has potential vulnerabilities. Scammers have replicated a common Origin email complete with logos and links to the real Origin Energy Privacy Policy to help lend further credibility to the email. Victims who clicked to download and view their bill are directed to a compromised Microsoft SharePoint account which is designed to install malicious software onto their system. The amount due will differ from email to email in an attempt to evade anti-virus software.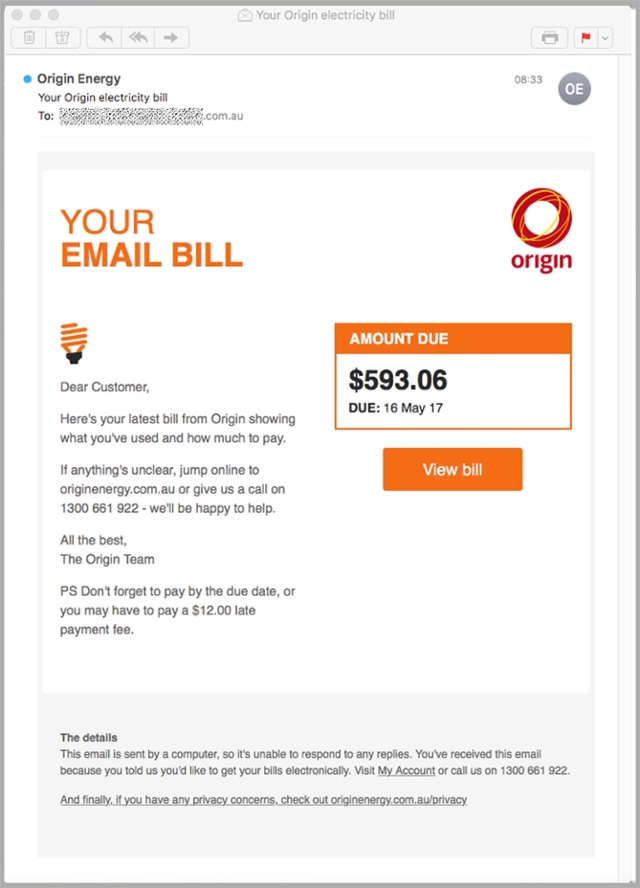 According to Mailguard, a fake domain called Originenergysolar.net was recently registered in China and the emails were sent from France.
NAB
National Australia Bank has always had a pretty consistent run with cyber criminals using their likeness for many different phishing campaigns. This scam email informs the recipient that their account has been disabled,  simply click the included link to reactivate your account, sounds easy enough. The link points to a duplicate of the real NAB website which prompts users for their NAB ID and password. A standard phishing email approach but one which still gets results.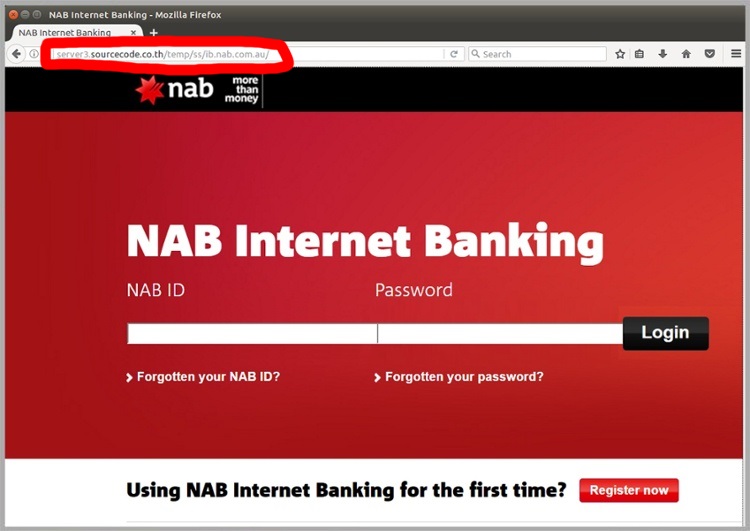 In this instance the emails are coming from discharge.authority@nab.com.au. Criminals trick unsuspecting bank customers into putting their actual bank information into the fake website which is then used for unauthorised transactions.
WannaCry
By this point many Australians are aware of the "wannaCry" ransomware attack which has dominated the media more than it has dominated Australian businesses. The Prime Minister's cyber security advisor Alastair MacGibbon told AFR, "there had been one likely case of the WannaCry ransomware attack on a small business but the impact of the attack had been limited."
"We have not seen the wholesale impact we are seeing in the UK and Europe," he said. "It has not affected our hospitals or other critical infrastructure."
Experts are attributing some of Australia's luck avoiding the scam down to a time zone difference, many Australian businesses had stopped trading for the weekend when the emails were arriving. which in turn did not give enough time for staff to view the scam email.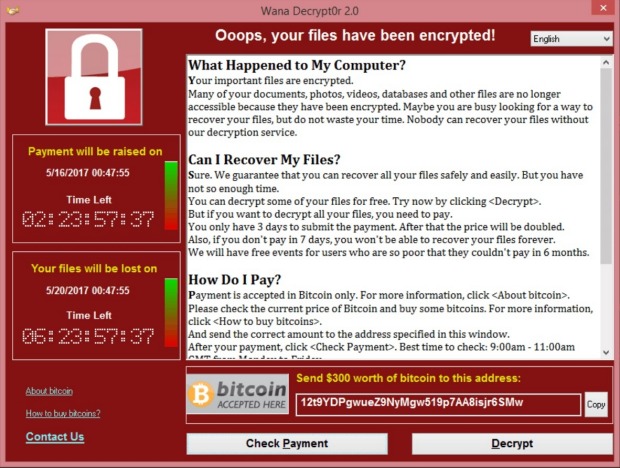 An attack targeting devices running Microsoft Windows which have not been updated with a security patch were the ones at risk. The purpose of the scam is to gain access to a network, encrypt the data and demand a bitcoin ransom within a short time frame or risk total data loss as can be seen in the above screenshot.
According to reports, more than 230,000 computers in over 150 countries had fallen victim to the scam yet official Australian reports indicate less than 15 Australian organisations were exposed. This attack affected many major services across the globe such as the National Health Service(NHS) in the UK and FedEx.
These scams happen every single day despite the lack of media coverage or direction from the government to raise awareness for business owners. An even more devastating variant of ransomware is already being seen by security researchers which won't be widely reported on until it is on your doorstep.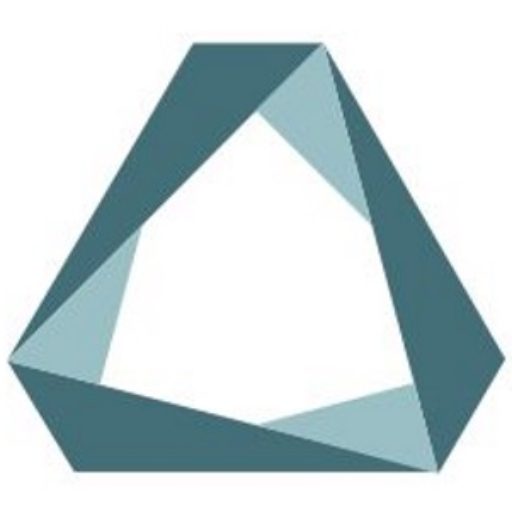 Cyber Insurance Australia can help reduce the costs of cyber crime for your business.
Feel free to comment with any malicious emails we missed. Each month we will be updating and reporting new malicious emails making the rounds for Australian businesses.
Subscribe and follow Cyber Insurance Australia on Linkedin & Facebook for regular updates and information. Thanks to MailGuard , subscribe to the security blog for regular updates here.
To ensure email security for your business, contact DDM Security Systems to learn more about email encryption & protection.
Share this list with your colleagues to help spread the word before one of these nefarious emails ends up at your business.